Carsten Wieland - Neon Watercolors - Calendar 2021 DELUXE
More color for 2021 !!!- 12 spectacular motifs in neon watercolor look
- Brilliant picture printing on high quality 250g paper
- Format 59.4 x 42.0 cm
- Stable spiral binding, foil cover sheet made of clear hard PVC
Monthly wall calendar 14 sheets (12 months + 1 cover sheet + 1 final sheet)
printed on one side 4/0 colored, DIN A2 landscape (594 x 420 mm)
250g high quality glossy print with glossy UV varnish on one side (metal spiral as wire-o binding)
500g back cardboard gray on the back
Format: 59.4 cm x 42.0 cm
Foil cover sheet made of clear hard PVC (200 µm).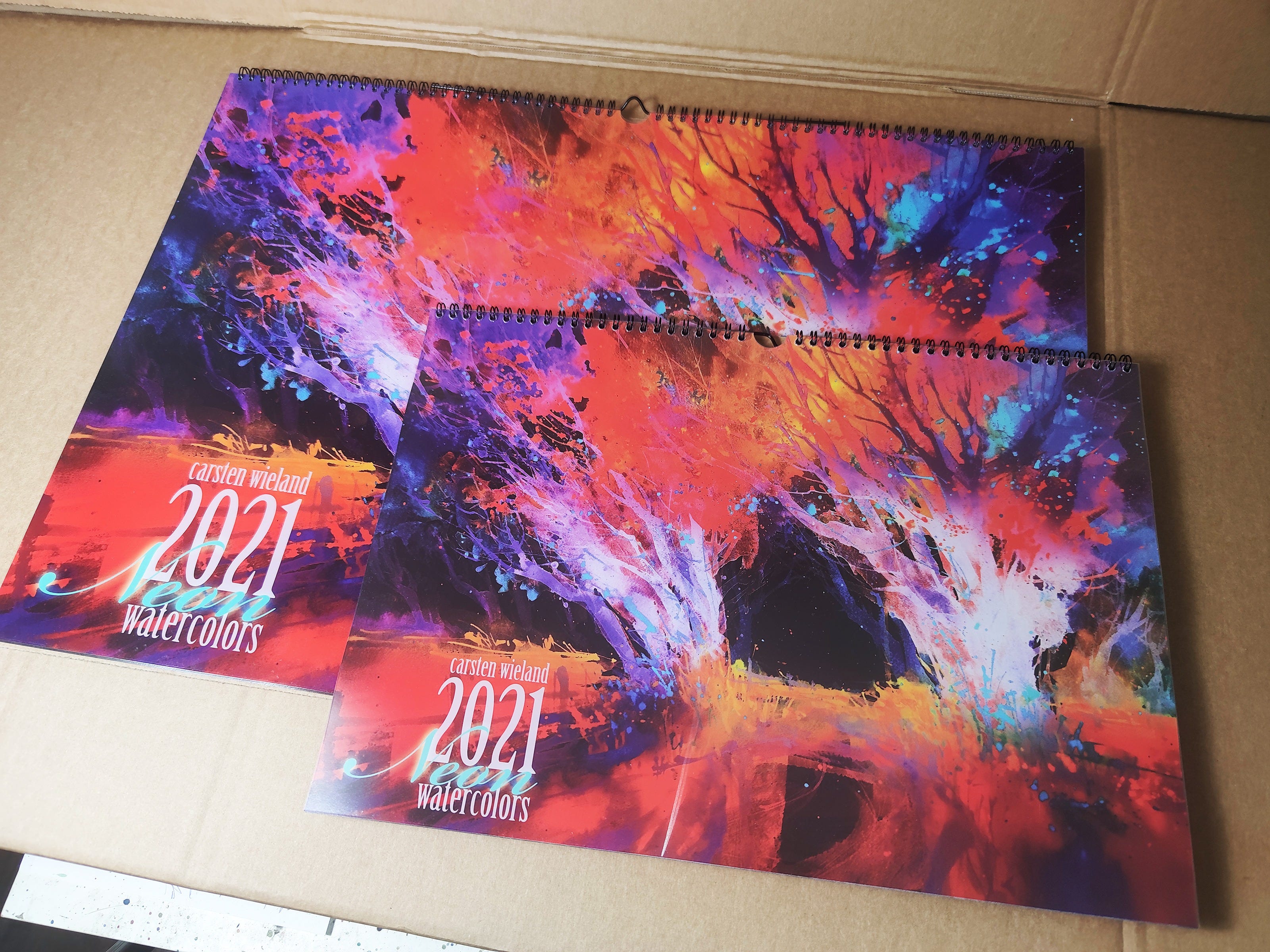 Printable Art - now in my Etsy Store




Please do not bend / Collage – Carsten Wieland Vol.1 / 112 farbige Seiten / Hardcover – 21.0 cm x 29.7 cm


Ich habe mich schon früher mit digitalen Collagen befasst, aber das Thema dann für einige Jahre aus den Augen verloren. Doch mit dem Ausbruch der Corona Pandemie und dem damit verbundenen Ausfall sämtlicher aushäusigen Aktivitäten, die mit meiner Aquarellmalerei zusammenhängen, wie zum Beispiel Workshops und Festivals, war es für mich an der Zeit, mich mal wieder mit etwas anderem zu beschäftigen. Ohnehin hatte ich eine kreative Mal-Pause geplant, um danach mit frischem Wind in den Segeln wieder in die Aquarellmalerei einzusteigen. Schon einige Wochen zuvor hatte ich immer mal wieder mit kleinen Collagen in Photoshop experimentiert, mich aber aus Zeitmangel nicht eingehender damit befasst. Ausschlaggebend dafür, mich intensiver mit den Collagen zu beschäftigen, war dann letztlich ein Zitat von Marie Curie, das ich im Radio gehört habe. Es passte zum einen sehr gut zu der neuen Situation, die das Virus über uns gebracht hat, zum anderen interessierte es mich für die Biografie von Marie Curie, deren Namen ich zwar kannte, aber eigentlich nichts genaueres über sie wusste. So entstand die erste der in diesem Buch versammelten Collagen am 20.03.2020 und es machte mir soviel Spaß, dass ich mich kurzerhand entschloss, eine ganze Serie von Collagen zu gestalten. Seitdem ist jeden Tag eine neue Collage entstanden und ich habe mich jeden Tag relativ intensiv mit der Biografie einer weiteren Persönlichkeit beschäftigt. Die Auswahl der hier vorgestellten Menschen folgt dabei keinem Schema. Manche dieser Personen fielen mir sofort ein und schienen es mir wert, mich für einen Tag ihrer anzunehmen.
Auf andere bin ich zufällig im Internet gestoßen, weil ich bei der Bildsuche im Internet an ihrem Gesicht "hängen geblieben" oder einen interessanten Artikel über sie gelesen habe. Die Grund-Voraussetzung war jedoch bei allen, dass es gemeinfreies Bildmaterial zu der jeweiligen Persönlichkeit gibt – in der Regel sind dies also Personen, die schon vor einer ganzen Weile gestorben sind. Als Bild- und Informationsquelle habe ich für dieses Projekt hauptsächlich das Internet benutzt. Neben Wikipedia waren mir vor allem die Library of Congress und die Digital Collection of the New York Public Collection sehr hilfreich. Oft ist aber die Bildsuche trotz allem sehr mühsam und nimmt eine Menge Zeit in Anspruch. So habe ich in meiner Nachtschicht meist nach Material, biografischen Infos und Zitaten recherchiert und mich dann tagsüber am heimischen Rechner mit der Gestaltung der jeweiligen Collage beschäftigt. Eine Bild- und Layoutidee kam mir meistens schon während der Recherche. Neben dem so gesammelten Fotomaterial kommen bei den Collagen jede Menge anderer Dinge zum Einsatz, zum Beispiel Scans von alten Zeitschriften, alten Papieren, Postkarten, Folien, gemalte Hintergründe, Fotos von Strukturen und diversen Texturen usw. Wichtig ist es mir, meinen Collagen eine ganz eigene Note zu geben und aus all den verschiedenen verwendeten Materialien einen individuellen Look zu gestalten. Offenbar ist mir dies recht gut gelungen, denn die Resonanz auf die Veröffentlichungen in diversen Social Media Plattformen war überaus positiv und hat mich bewogen, ein Buch aus den so entstandenen Werken der letzten Wochen zu gestalten. Das ist mir auch wichtig, um die Collagen abschließend auch auf Papier zu bringen.
In den vergangenen Wochen habe ich so eine Menge Persönlichkeiten näher kennen gelernt, und wenn auch nur virtuell, war es ein netter Ausgleich zu den derzeitigen erheblichen Kontaktbeschränkungen im realen Leben.




Please do not bend / Collage – Carsten Wieland Vol.1 / 112 pages full color / Hardcover – 21.0 cm x 29.7 cm


I've dealt with digital collages before, but then lost sight of the subject for a few years. But with the outbreak of the corona pandemic and the related cancelation of all outside activities related to my watercolor painting, such as workshops and festivals, it was time for me to deal with something else again. In any case, I had planned a creative break from painting, after which I would go back to watercolor painting with a fresh wind in my sails. A few weeks earlier, I had already experimented with small collages in Photoshop, but did not take it too serious due to lack of time. Ultimately, a quote from Marie Curie, which I heard on the radio, was decisive for dealing with the collages more intensely. On the one hand, it very well suited the new situation that the virus brought about us, on the other hand, I was interested in the biography of Marie Curie, whose name I knew, but actually knew nothing more about her. So the first of the collages collected in this book was created on March 20th, 2020 and it was so much fun that I decided to make a whole series of collages. Since then, a new collage has been created every day and I have dealt with the biography of another personality relatively intensively every day. The selection of the people presented here does not follow a scheme. Some of these people came to mind immediately and seemed worth taking care of for a day.
I came across other people by chance on the Internet because I "got stuck" on her face while searching for pictures on the Internet or because I read an interesting article about them. The basic requirement for everyone of them, however, was that there is public domain picture material for the respective personality - usually these are people who have died a long time ago. For this project I mainly used the internet as a source of images and information. In addition to Wikipedia, the Library of Congress and the Digital Collection of the New York Public Collection were particularly helpful to me. However, image search is often very tedious and takes a lot of time. In my night shift, I mostly researched for material, biographical information and quotes and then worked on the design of the respective collage on my computer at home during the day. I usually came up with an image and layout idea while doing my research. In addition to the photo material collected in this way, the collages use a lot of other things, for example scans of old magazines, old papers, postcards, foils, painted backgrounds, photos of structures and various textures, etc. It is important to me to give my unique touch to my collages and to create an individual look from all the different materials used. Apparently I managed this quite well, because the response to the publications on various social media platforms was extremely positive and prompted me to design a book from the works created in the past few weeks. It is also important to me to get a paper version of the digitally created works.
I have gotten to know a lot of personalities in the past few weeks, and even if only virtually, it was a nice balance to the current considerable contact restrictions in real life.


Buch DIN A5 quer, Umschlag: Hardcover 4/0-farbig / Inhalt: 60 farbige Innenseiten (4/4-farbig) / 210 x 148 mm – gedruckt auf 200 g Papier – Signiert & Limitiert auf 100 Exemplare
Die Cliffs of Moher fallen einem schnell ein, wenn man an typisch irische Landschaft denkt. Und wahrscheinlich kommt man auch sehr schnell auf die Farbe Grün. Tatsächlich habe ich bei meinem kleinen Trip durch Irland im September 2019 das Gefühl gehabt, dass die gesamte irische Landschaft in einer unglaublichen Vielfalt der unterschiedlichsten Grüntöne gestaltet ist. Selbst bei Regenwetter "leuchtet" das Land in einem Variantenreichtum aller erdenklichen Grünschattierungen dass es eine wahre Freude ist. Es war meine erste Reise nach Irland, bei der mich das Land so inspiriert hat, dass ich jederzeit, mit Staffelei und Farben ausgestattet, wieder dorthin fahren möchte. Im Nachgang habe ich meine Impressionen mit Aquarellfarben in einem Skizzenbuch und auf größeren Bögen zu Papier gebracht und sie in diesem Buch zusammengefasst. Während der Reise selbst hatte ich nur sehr begrenzt Möglichkeiten, mich kreativ mit den Eindrücken auseinander zu setzen. So blieb meist, wenn überhaupt, nur Zeit und Gelegenheit für ein schnelles Scribble und einige Notizen mit dem Kugelschreiber.
Die irische Landschaft als Motiv war dabei durchaus eine Herausforderung für mich, denn in ihrer kargen, oft schnörkellosen, Schönheit hat man wenige Möglichkeiten, Schwachstellen in der Bildgestaltung zu kaschieren. So war die malerische Auseinandersetzung mit meinen Reiseerinnerungen auch gleichzeitig eine Suche nach geeigneten Stilmitteln. Vor allem in der Vereinfachung und Abstraktion hatte ich das Gefühl, der Landschaft Irlands am nächsten zu kommen. Ich würde mich freuen, wenn ich den Lesern dieses Buches meine Faszination für Irland ein wenig näher bringen kann.


Book DIN A5 , Hardcover 4/0-colors / Content: 60 colorful pages (4/4-colors / 210 x 148 mm – printed on 200 g paper – Signed & Limited to 100 copies


The Cliffs of Moher may be one of the first things to come in mind when thinking about the typical Irish landscape. And probably one thinks about the color green pretty soon, too. When I arrived for a short trip in Ireland in 2019, September, I had in fact the feeling that the whole landscape is created from an unbelievable richness of variations in green. Even in heavy rain the land is "glowing" in 50 shades of green – what a gem! It was my 1st visit to Ireland but probably not my last, because this beautiful country has deeply inspired me and there is nothing better to dream about than going back there with an easel and paints. Just after coming back home I started to bring my impressions on paper – with watercolors in a sketchbook and some larger sheets. I collected them in this book. During the trip there was not much time to spend time for painting. In most cases there was hardly enough time to put down some notes and scribbles with the ball-pen.
The Irish landscape as a motive was a real challenge for me. Because of the often barren beauty of the land there is not much room to whitewash weak points in the pictorial design. So the painting engagement with Ireland became also a quest for stylistic devices.
In simplification and abstraction I had the feeling to draw nearer to the beauty of Ireland. It would make me rather happy if I could give readers of this book an understanding of my fascination about Ireland.
Werkbuch:Aquarell 1 – 10 Aquarelle – Schritt für Schritt. Von brushpark watercolors:carsten wieland
Format: 216 x 303 mm / 135g Innenteil hochwertiger Qualitätsdruck matt / Umschlag Hardcover mit Mattfolie 152 Seiten 4C


"Nicht als Lehrbuch des Aquarells möchte Carsten Wieland sein neues Buch verstanden wissen, sondern seine eigene, sehr persönliche Malweise anhand von 10 beispielhaften Aquarellen veranschaulichen. Diese werden in zahlreichen Einzelschritten in ihrer Entstehung dokumentiert und erläutert, fast als wäre man live bei einer Malvorführung dabei. Daneben gibt der Aquarellkünstler Einblicke in die Vorbereitung seiner Bilder und detaillierte Auskunft über verwendete Materialien wie Farben, Pinsel und Papier.
Das Buch entstand als Ergänzung zu Wielands Workshops, in denen er seine persönliche Malweise anhand zahlreicher Malvorführungen demonstriert, immer aber darauf bedacht, den Teilnehmern nicht seinen Stil aufzuzwängen, sondern sie zur Entfaltung einer eigenen Malweise zu ermutigen."